To create a single post you have to:
Login to your WordPress admin account
Go to Blog Posts tab
Click Add new tab
Give your post title
Start filling content using Visual or Text editor, add Media if needed:
If needed you may also fill in additional fields on the right:
Post format – select needed post format from the given variants under Format tab (detailed info about each of them you can find here)
Blog Categories – choose a category to which the post belong to, or create a new one
Tags – add needed tags to your post (posts with similar tags will be shown by click on the definite tag)
Sidebar picker – choose needed sidebar and its position for your post page (detailed info here)
Featured image – set featured image that will be shown on blog page

If you need to use other standard WordPress post options you should check them under Screen Options tab that you can see on the top: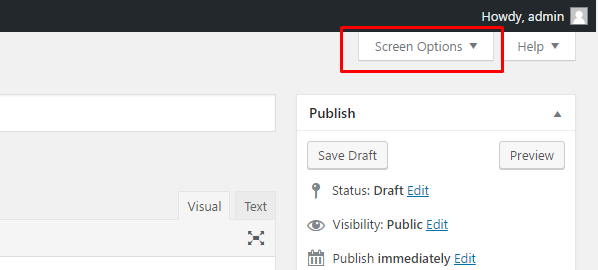 To read more about standard WordPress options, please follow the link
IMPORTANT: In order to display short post description on your blog, category, archive pages you need to activate Excerpt under Screen Options. Fill in the excerpt field that appeared on the page below

Or you can use tag Read More tag in your Visual or Text editor. The text written before this tag will be shown on your blog, category, archive pages.

OTHERWISE, The entire post content will be displayed on your blog, category, archive page
When you are done, go to the top right and click Publish button.