Have you ever wanted to have a Facebook-like live chat on your BuddyPress community website? I bet you have. And there is one that would most likely meet your requirements – Comet Chat.
In this article, I will guide you through the entire process of setting up the Comet Chat on your WordPress site, from choosing the right plan for you to launching the chatbox on the site. I will use the Olympus Social Network theme to show you how to integrate the CometChat in your social network on WordPress.
What is Comet Chat?
Comet Chat integrations
Comet chat is a live chat service, that provides plugins for popular web software and CMS platforms such as WordPress, Drupal, Joomla, Ning, etc.
They declare to provide effortless integrations for more than 50+ platforms.
Comet chat also delivers SDKs, API, and UI components for such programming languages as React, Swift, Java, etc. Impressive, isn't it?
Among all those awesome integrations, Comet Chat allows WordPress sites to have their own live chat.
Moreover, the CometChat plugin integrates with the BuddyPress community. Thus you have all your community friends and groups synchronized in the chatbox contacts lists.
We'll come back to all the live chat features in this article later.
What are the chat plans to choose from?
Comet Chat has four pricing plans to choose from – Lite, Startup, Growth, and Mega.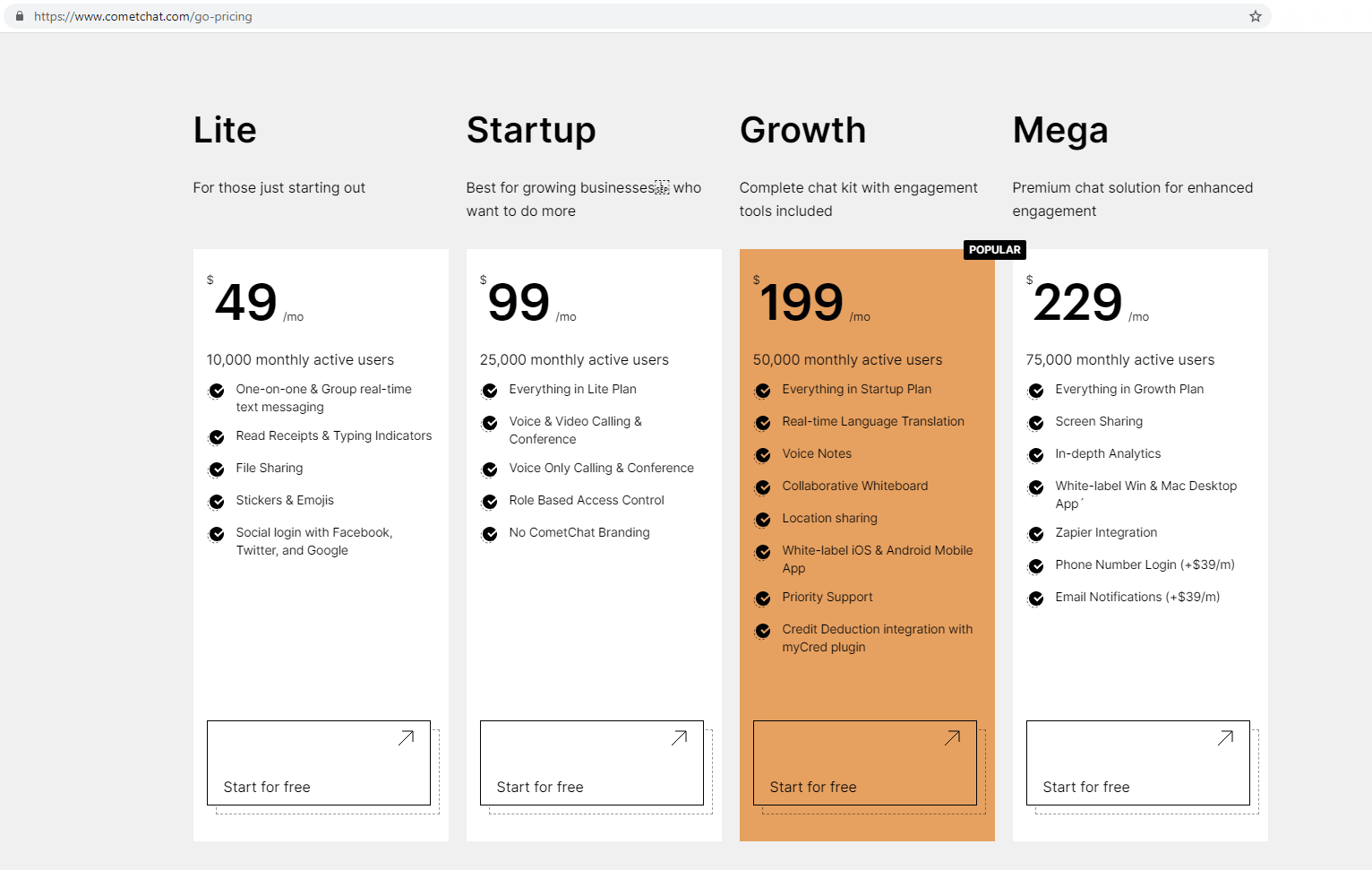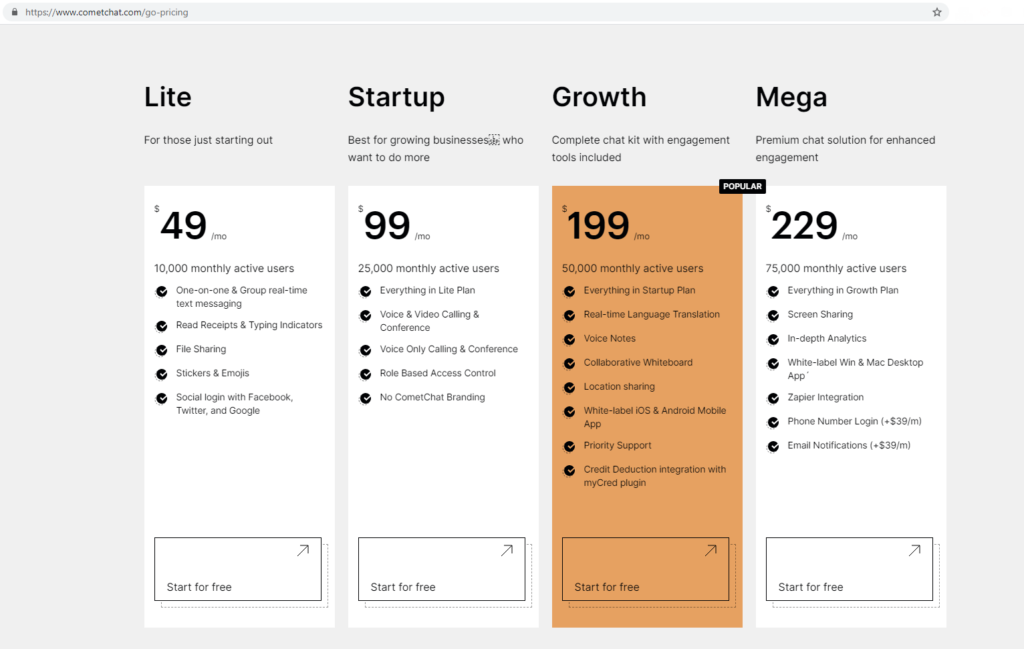 A Lite plan is perfect for those, who have just started a social network and brings not more than 10,000 active users per month.
In the Lite plan, users can
communicate with each other in private,
have read receipts and typing indicators,
share files with each other,
use stickers and Emojis,
login via social networks like Facebook, Twitter, and Google.
A Startup plan allows uo to 25,000 mnthly ative users for growing businesses.
Startup plan includes:
everything in the Lite plan,
voice and/or video calling and conversations,
role based access control,
no CometChat branding.
A Growth plan is claimed to be the most popular, as it includes all the must-have characteristics and many more extra features:
everything in the Startup plan,
real-time language translation,
voice notes,
collaborative whiteboard,
location sharing,
white-label iOS & Android Mobile App,
priority support,
credit deduction integration with myCred plugin.
A Mega plan is a premium chat solution for big companies that provides boosted chat features kit:
everything in the Growth plan,
screen sharing,
in-depth analytics,
Win & Mac Desktop App,
Zapier Integration
Phone Number Login (+$39/m)
Email Notifications (+$39/m)
What is the best chat plan for your BuddyPress social network on WordPress?
WordPress is the easiest to use platform to build your own social network using the free BuddyPress plugin.
However, there is also a downside – social networks on WordPress are usable for a small number of users (not more than 2.000 users).
So if you are up to have a small social network with BuddyPress, feel free to get started.
Thus, the most suitable plans of the CometChat for your BuddyPress social network would be Lite or Startup, depending on the required features.
Getting started with the CometChat
To get started with the CometChat, you need to visit the CometChat website. Move to the Products menu dropdown and click on the CometChat Go (Chat plugin) box.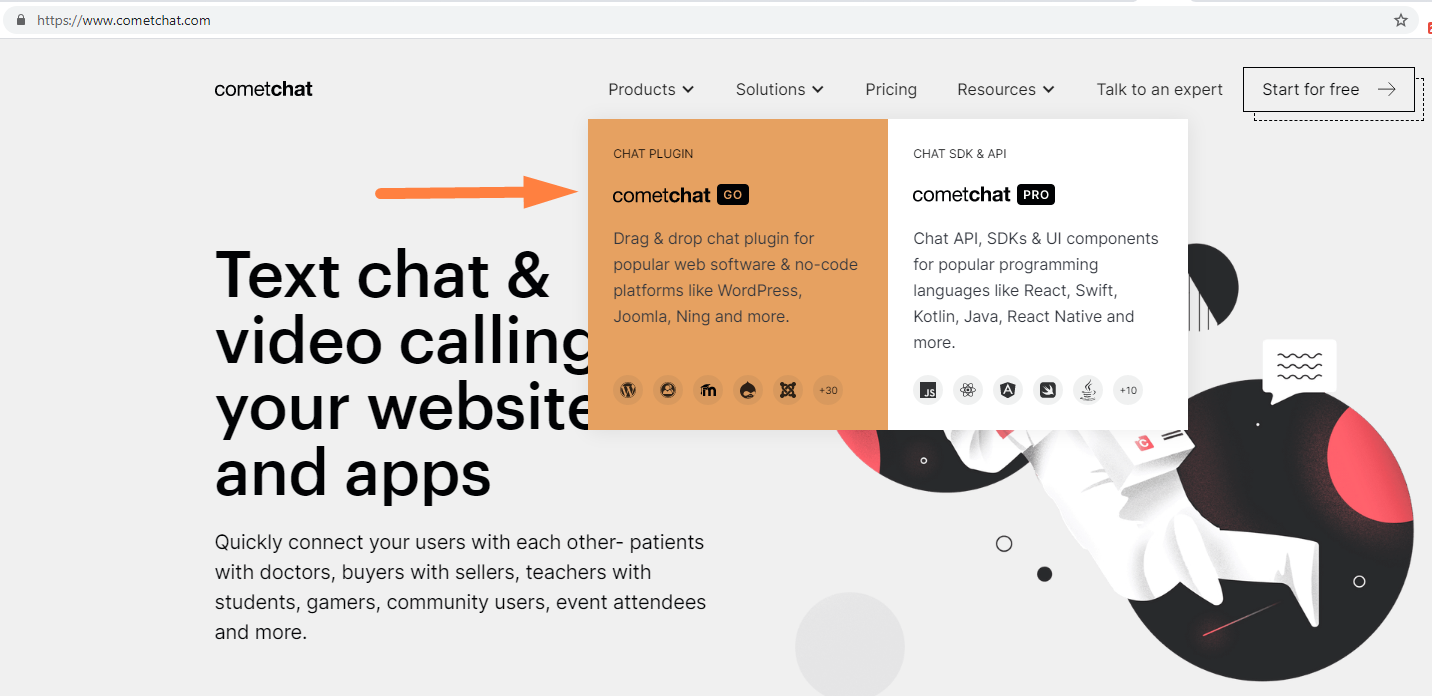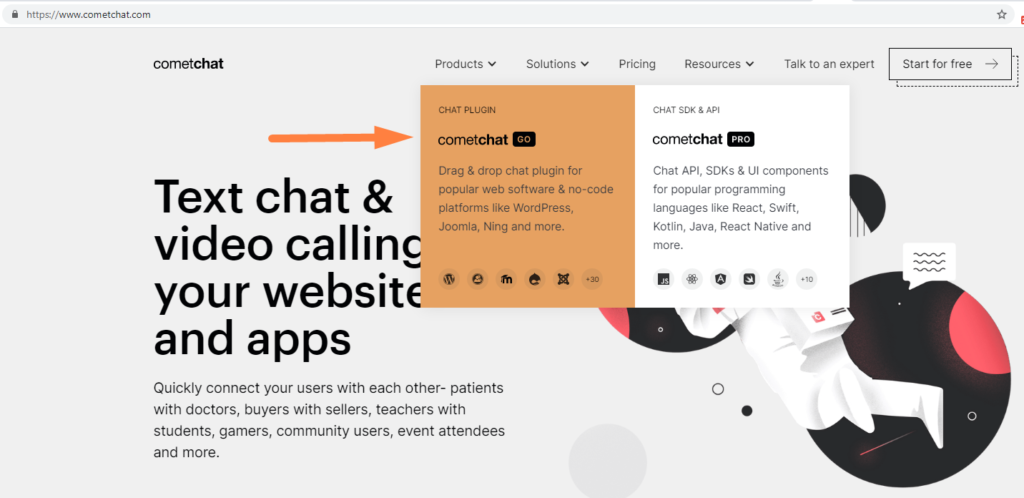 In the first section of the page click on the Start Free Trial button to get on the Pricing Plans page.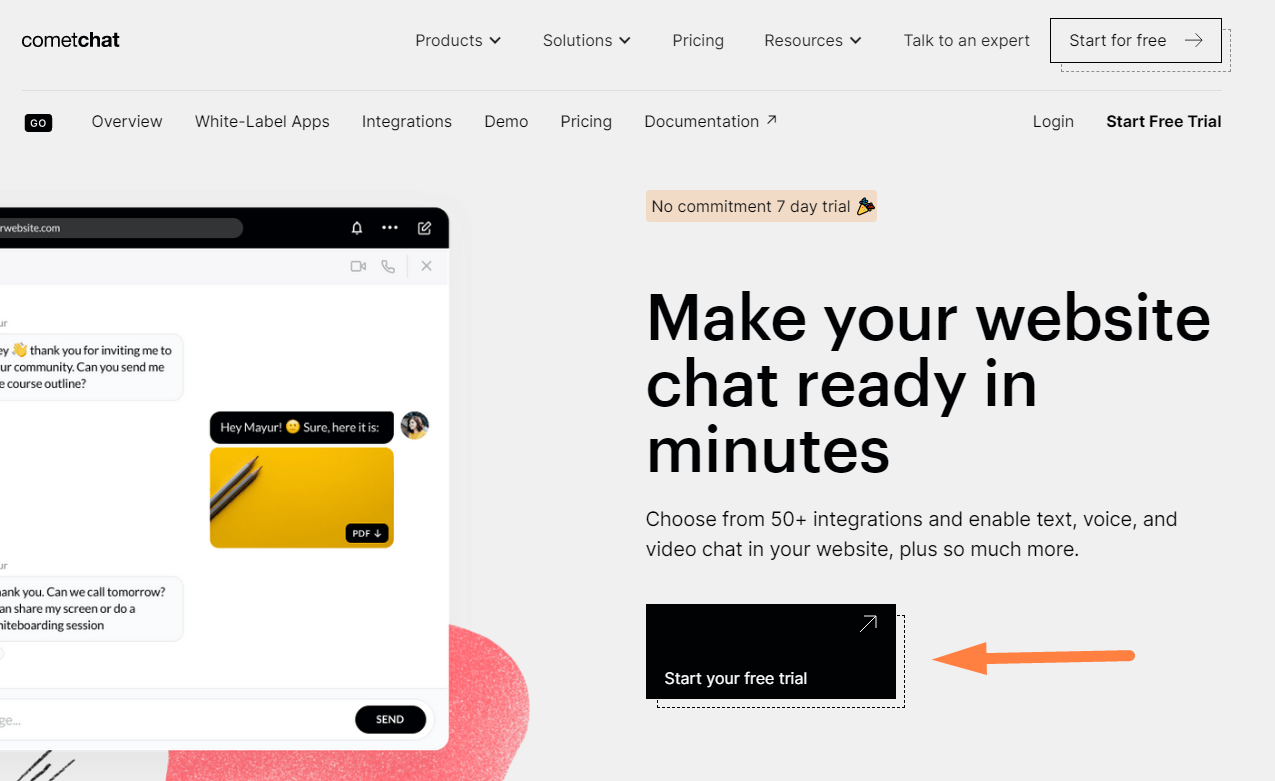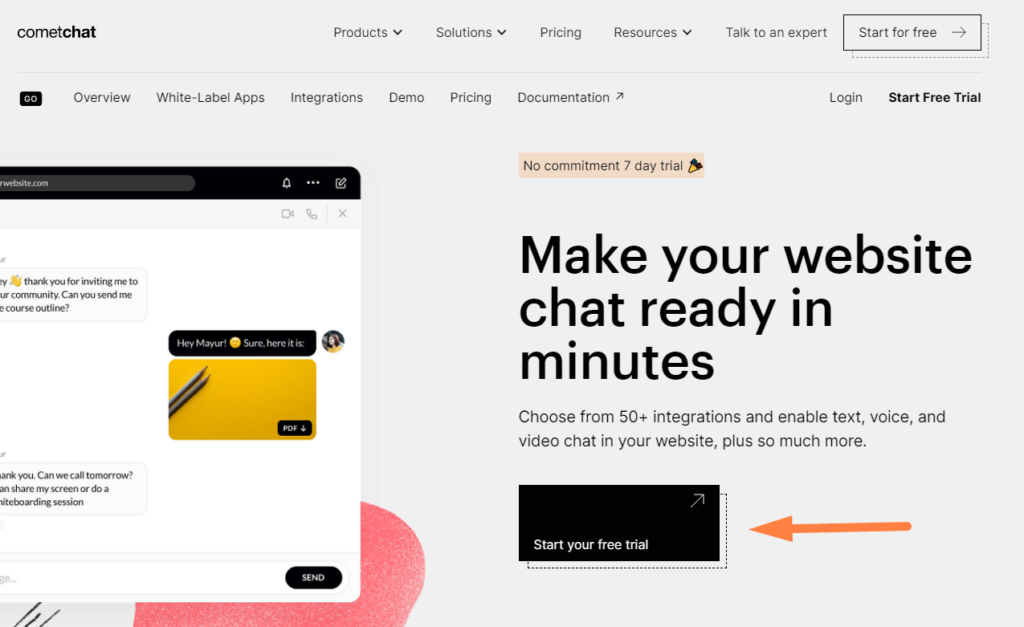 Select the plan you would like to try out.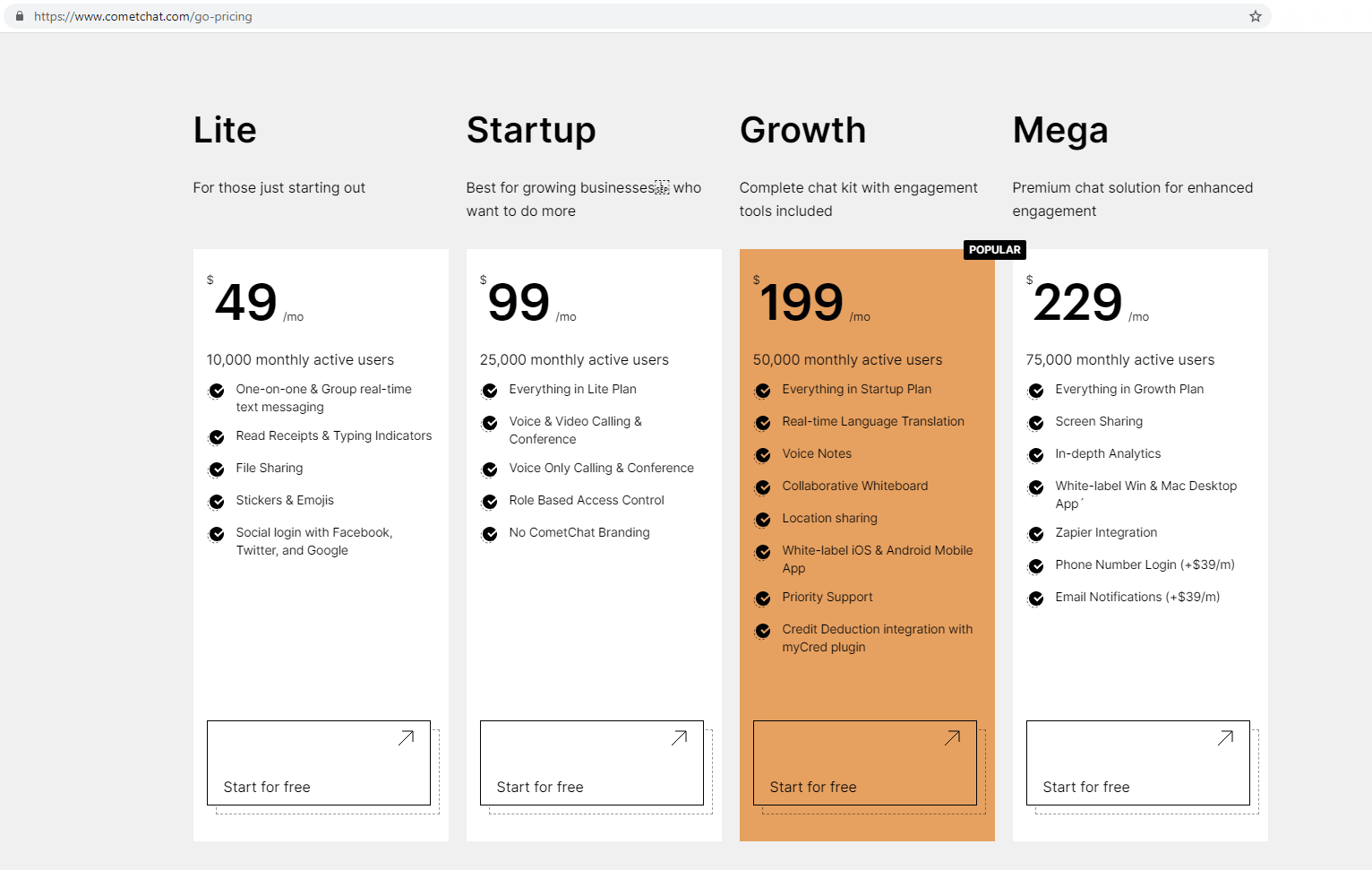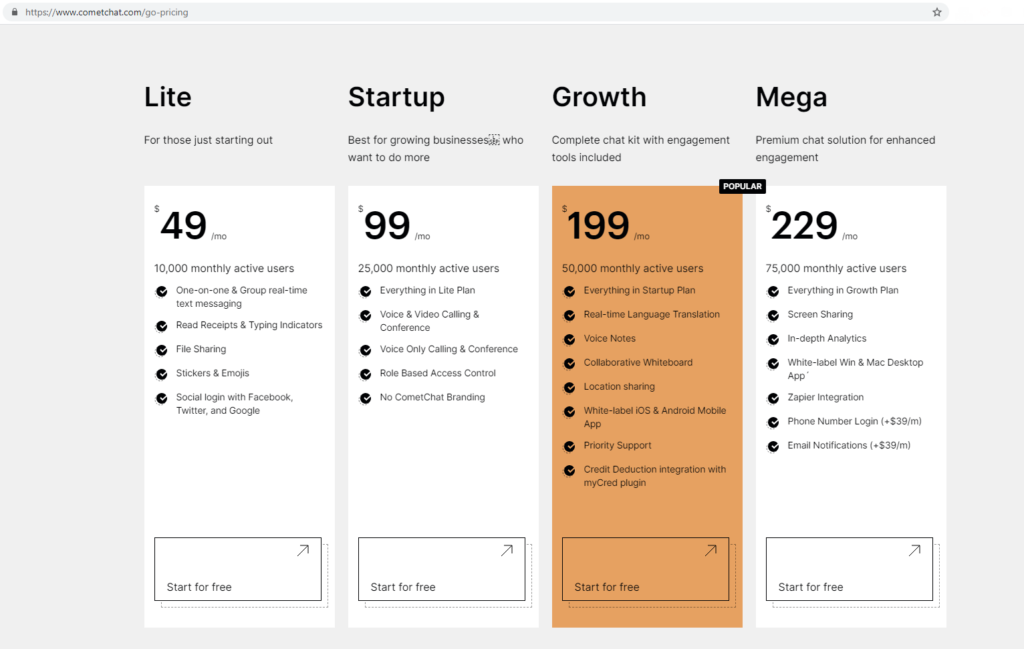 REMEMBER: CometChat gives 7 days trial for every chat plan, so you can try out any plan before you are charged for it. You can also change the pricing plan within the trial period or cancel it at all.
Fill in your registration details and payment method. NOTE: you won't be charged at this step.
Once registration is completed, you will get a confirmation email with the link to your CometChat admin area and your login and password.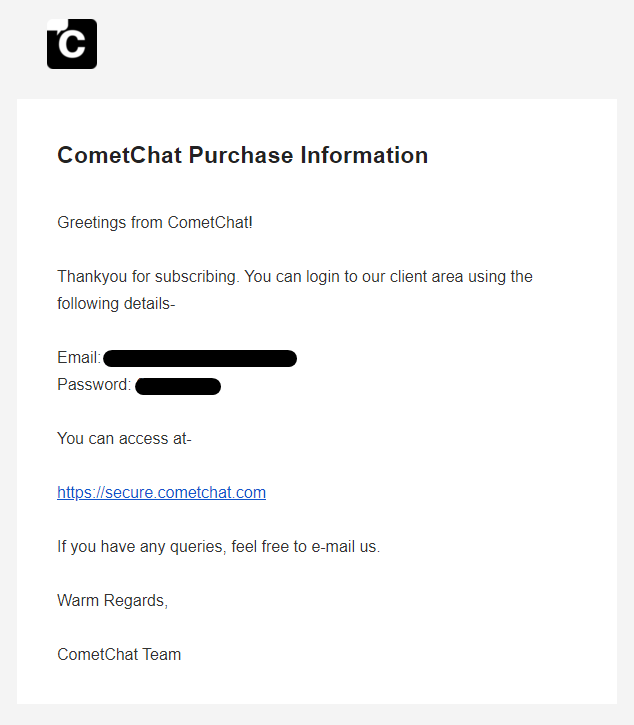 Log in to your admin area. On this page, you have to enter your website link. You can change the website link if you change the website domain. You can also change the pricing plan on this page if needed.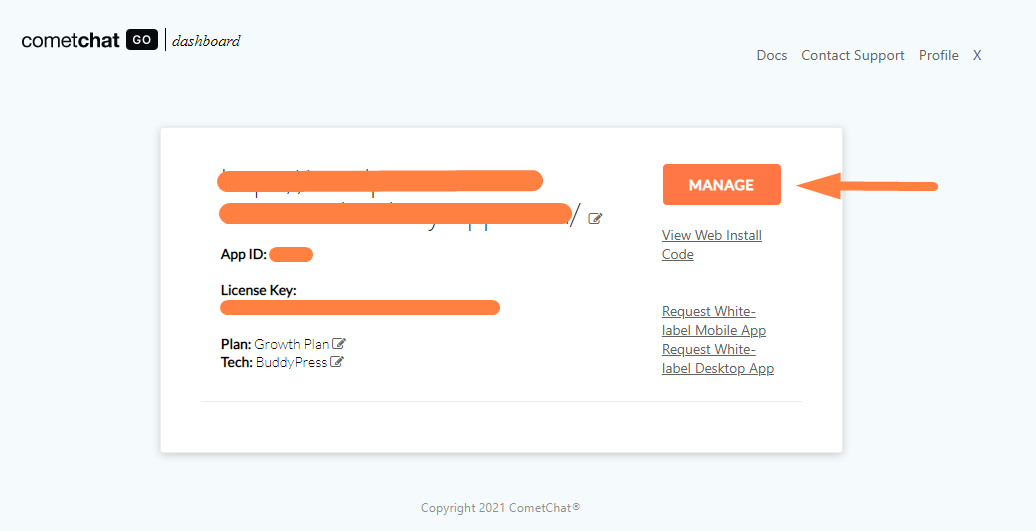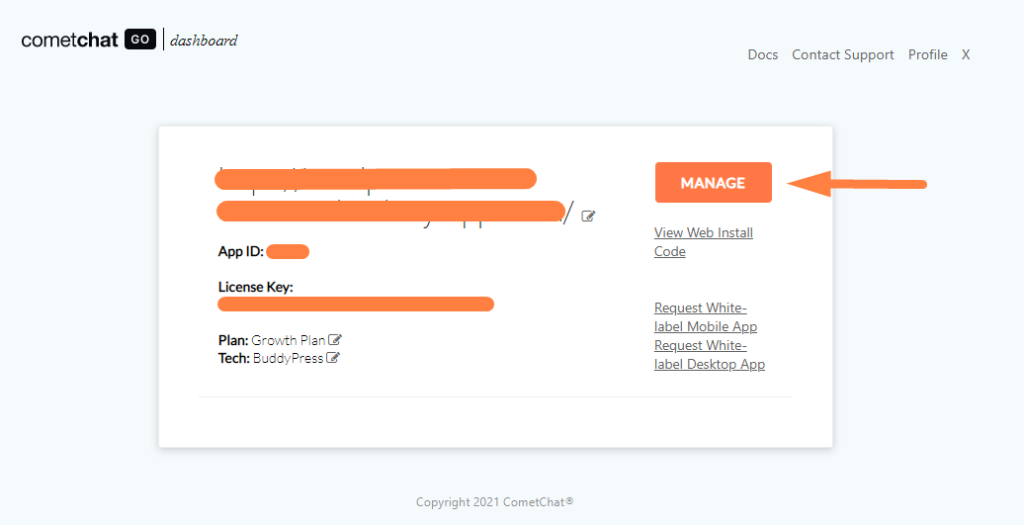 Click on the Manage button to reach the Settings page. On the top right corner click on the API keys, where you need to copy your License key, API, and Auth keys, that are needed to activate the CometChat plugin.


Download the CometChat plugin ZIP file. You can reach the plugin download link from your Admin area (Settings>Install CometChat on your website>Install CometChat>BuddyPress) or download it directly by this link.
Log in to your website. Install the plugin from your WordPress admin area under Plugins>Add new>Upload plugin. Activate it.

Go to the CometChat settings area in your WordPress dashboard and enter your License key.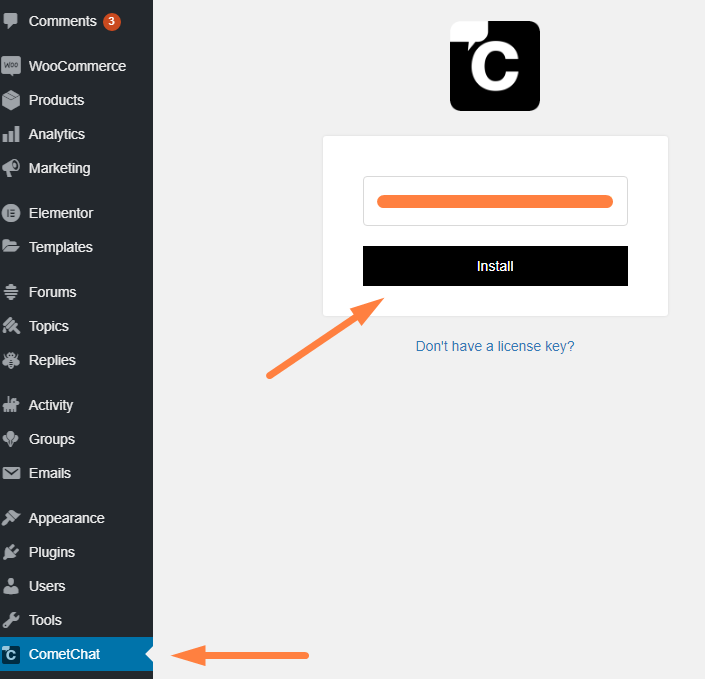 After that enter your Auth and API keys that you have previously copied from your CometChat admin area.


In the CometChat>BuddyPress settings, you can choose to display only friends or all users in the contacts list and you can synchronize BuddyPress Groups with CometChat.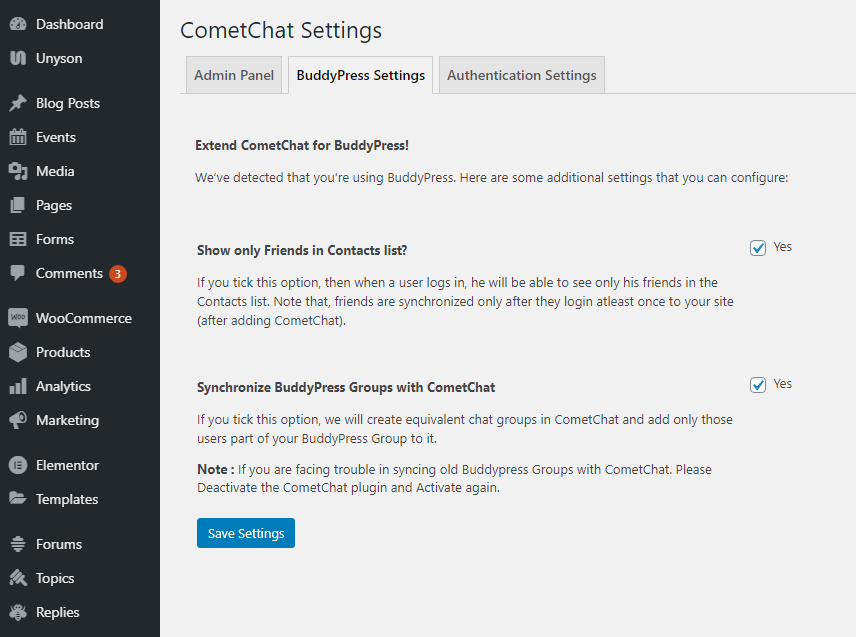 That's it. The live chat is set and your BuddyPress users can start communicating in live time mode.
Olympus theme and Comet chat in work
Once everything is set, the chatbox appears in the bottom right corner of the website screen. All users can start chatting with friends privately or in groups.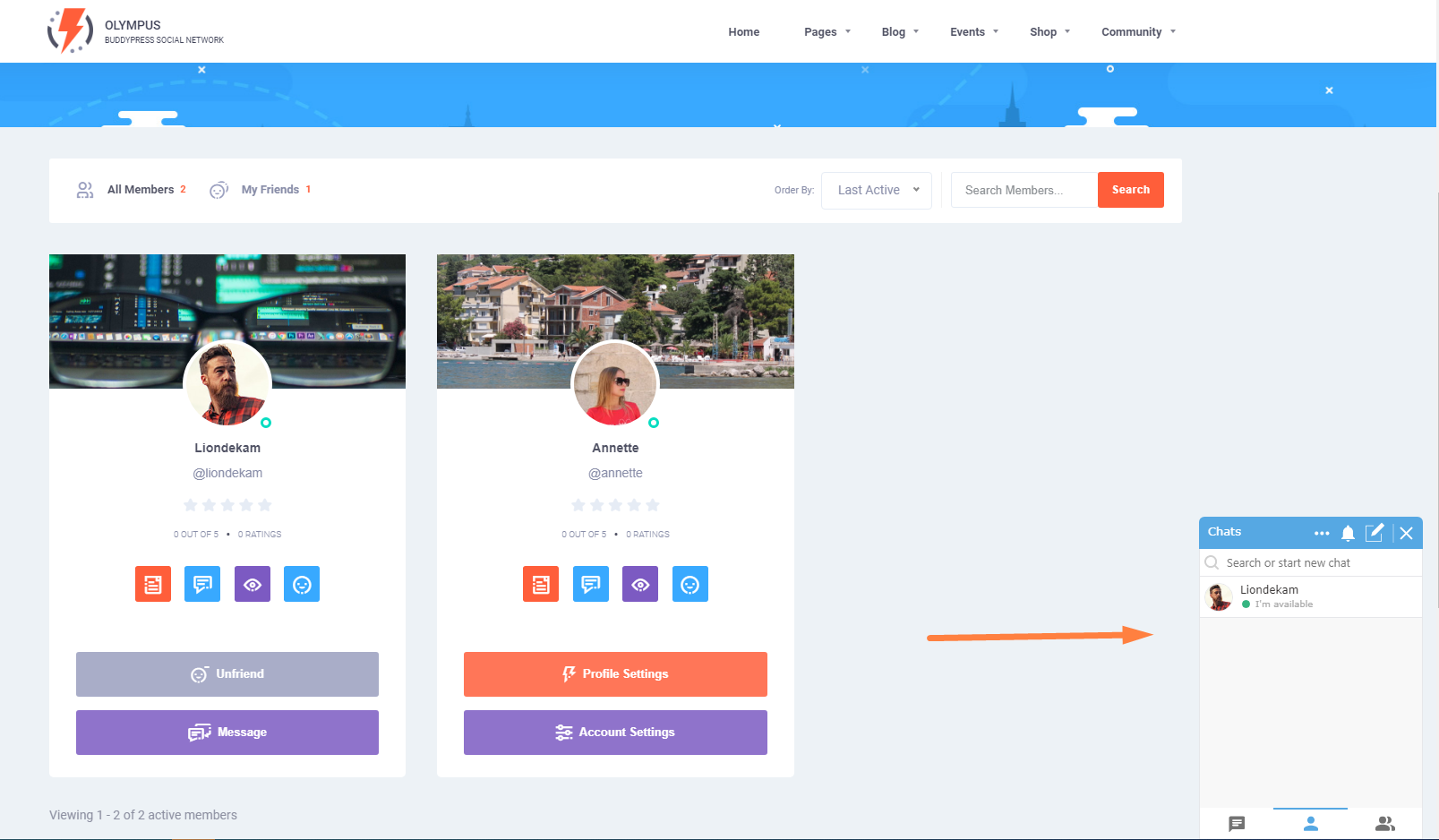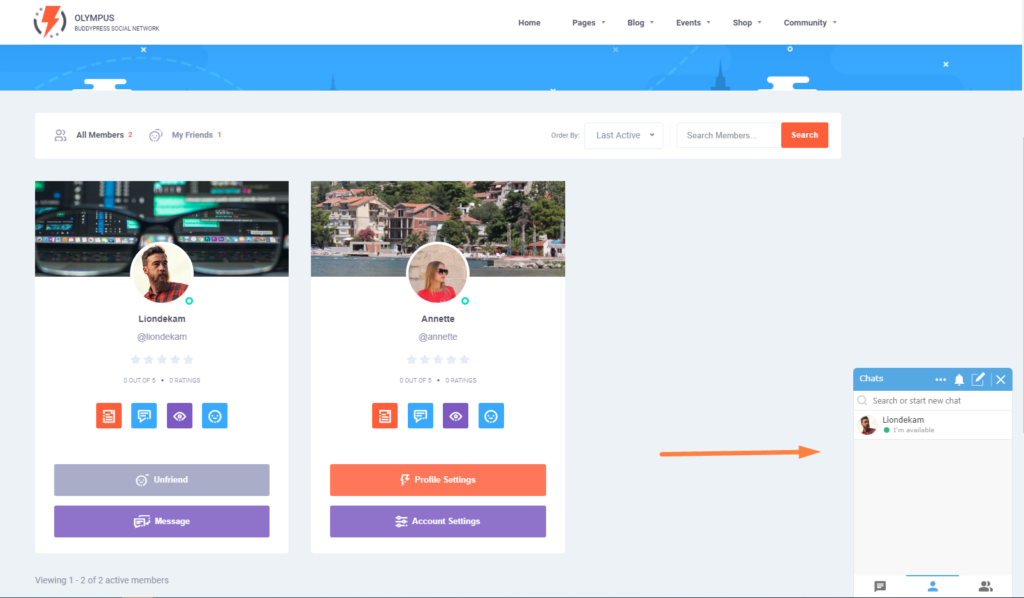 Whether you need to customize the layout configuration, main chatbox colors, ban settings, etc, visit the Settings tab in your CometChat admin area.
Pros and Cons of the CometChat
Pros:
many pricing plans to choose from
great features kits even in the Lite plan
easy and smooth installation and setup
7-days free trial
regular updates
Cons:
it may be overpriced for small businesses
not all features are usable in WordPress websites and BuddyPress social networks.
Final Thoughts
Live chat is definitely a must-have feature in every single social network nowadays. It allows smooth access to the contacts list with all community users from any page of your website. CometChat is one of the best chat services that can be easily integrated into almost any web software and no-code platform, including WordPress and BuddyPress. Despite WordPress CMS is not directly coded for social networking, CometChat is still a decent solution for those who stand in need of a personal BuddyPress social network with live chat.