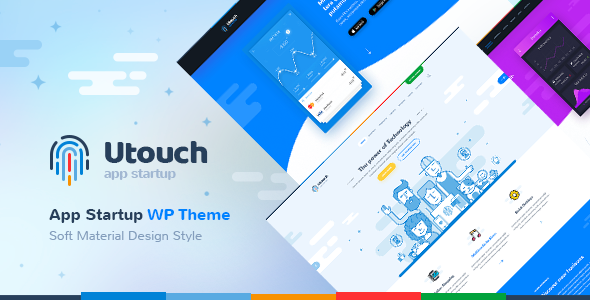 Catch the best theme for business, startup and entrepreneurship
Do you want to spend less time developing the site and pay more attention to its content and business itself? Despite the fact that WordPress is really a very simple and convenient content management system, you will spend many hours to design and customize your project. The time you spend on inventing a website design is important, too. All of this can be easily avoided if you purchase the premium theme Utouch.
All you need is to select the required template on ThemeForest and install it. This will save you a lot of time that you would spend on designing by yourself, or money on design service . In this overview of the Utouch theme, we will get acquainted with all the basic functions and will see how it works. First, let's find out whether Utouch is the right choice for you.
Why is this theme the best for you?
Utouch is an excellent solution for WordPress developers, freelancers, agencies and companies looking for a business-focused and user-friendly theme. With this ready-made template, you can easily turn an empty WordPress installation into a really cool website without any extra effort. We also believe that the theme is suitable for independent WordPress users who are not particularly strong in programming or who simply do not want to learn any technical nuances for a long time.
1. Specialization of the Template
Unlike the well-known multifunctional themes like Avada, The7 and BeTheme, Utouch is a narrow targeted WordPress template for business, startup, digital agencies. Utouch is a beautiful embodiment of your ideas. While developing the template we took into account the real needs of all businessmen. This template will pleasantly surprise users. Unlike the most popular templates, which were used to create tons of websites and which no one else is surprised by, with Utouch your website design will be interesting for your customers.
2. Unique Functionality
We managed to satisfy most customers` requests. Utouch functionality is a combination of portfolio, shop, event and lesson calendar, and of course traditional WordPress blog. Integrated KingComposer Pagebuilder gives you an opportunity to create any layout one can imagine. Its options let you customize each tiny element of a block: typography, colours, backgrounds, icons, images, block paddings, margins and much more. All options are most user-friendly, so even a newbie can cope with it. We mix the beautiful with the usable. Have a look at our work!
3. Frontend Live Editor
The theme has variable options, but the one we really wish to highlight is the Frontend Live Editor. If you do not have time to carefully study the documentation and you want to quickly edit pages, Frontend Live Editor is your best assistant. You just click on the area you want to change and input needed data there. All the edits are displayed in real time mode. So it is really comfy to play around with your site look and feel.
4. WooCommerce and EDD Integration
Utouch adaptive and accurate template is a perfect solution for those who need to create an online store. The theme is perfectly compatible with the most popular WordPress shop plugins: WooCommerce and EDD (Easy Digital Downloads). Your shop will have clean and flat design. WooCommerce and EDD catch the theme style so your shop will perfectly match the overall site design. The shop will look like integral part of your website, but not like a third-party extension as it often happens in other themes.
5. Comfy Event and Lessons Page
Do you provide services for master classes, webinars, workshops? Do you invite different speakers? Organize structure so that your customers easily find information they need. The Event page consists of four functional sub-sections and provides the following options:
Creating event calendar with speakers, venue, date. All the data will be automatically sorted by date.
Extended information about each speaker. You will be able to present the achievements and strengths of the speakers to the public, thereby involving your readers to attend the event.
Lessons and webinars. This is an incredible feature that allows you to add topics to the lessons and a brief description. Do you want to conduct a webinar? Make an announcement on the site and tell everyone about the main points and tasks in more detail.
6. Stylish and Elegant Portfolio
Clean portfolio organization allows you to represent your projects in a favorable light. It lets site visitors pick up and view the items they are interested in and clearly show project advantages. Content blocks allow you to select and combine information of different types. Add images, videos, statistics, sliders, animations and any other blocks you like for attracting more visitors. Creating a beautiful gallery of projects will take just minutes!
7. Dedicated Support
Although extensive documentation of the template will allow you to cope even with the most difficult tasks, even the most experienced users sometimes encounter difficulties. We have taken care of this as well. You can write any question bothering you and our support team will do their best to reply asap. To ensure smooth theme functioning we provide regular updates as well as one-click auto update option to simplify the update process for you.
8. Responsive Design + Cross-browser
Responsive web design is the transformation of the site to the screen format of the device. It is also great for SEO optimization, since all page views go through one URL. Using a responsive design in combination with the right business tactics has the potential to provide better results and a rapid increase in the website conversion rate. Moreover, your website will be opened equally well on any browser, for example, Mozilla Firefox, Google Chrome, Opera and others.
Price
The regular license will cost you just $59. Considering the above mentioned functions and the fact that the template is one of the best selling themes on ThemeForest, purchasing the Utouch theme is a great investment.
Conclusion
By purchasing the theme Utouch, you get features such as
One-click installation
Amazing web design
Website satisfing business needs
Powerful King Composer Builder
Tons of customization options
Frontend changes in real ime mode
SEO-optimization
Online shop based on WooCommerce and EDD
Detailed calendar for workshops, meetings, events
Working great on all modern browsers
No matter what type of website you are going to create, the Utouch WordPress theme will make your ideas real. All plugins and settings turn the theme into a powerful tool, which is great for beginners and experienced users of WordPress.